Like any good family, when we saw that our older sibling had something we wanted what did we do? Well, we whined and complained until we got it!
Stack Overflow recently finished their 2011 survey, and as soon as the results where announced, Server Fault being the proper younger sibling that it is wanted one too.
So I call all of you Server Fault users to come and take our survey, you wanted it and now you've got it! (oh and you really should get your sysadmin friends to take it too – the more data the better!)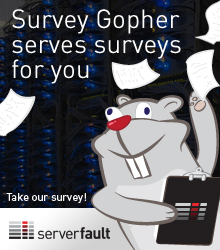 Just like the Stack Overflow survey we will be releasing the data right when the survey ends!