StackExchange welcomes our newest system administrator, Steven Murawski!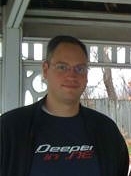 Steven followed a bit of an eclectic path to systems administration, having started out operating a garden center, floral design and landscape business. After eight years he decided to move into law enforcement; he went to school for Police Science and worked at a local police department as a clerk, dispatcher and auxiliary officer. While he enjoyed shooting various firearms and driving at high rates of speed, he also began working with the police department's IT systems, and slowly fell in love with systems administration. He became a member of LOPSA, Microsoft MVP, and continues to lead two local user groups (the Greater Milwaukee IT Pro User Community and Greater Milwaukee Script Club). Steven combined his love of systems administration with public speaking by presenting technology talks at various technology conferences and user groups.
Today Steven distracts himself from technology by playing with his eight month old son, puttering around with home-improvement projects and hurling pieces of lead through paper targets, although he is seriously considering once again picking up the mantle of host for a systems administration and Powershell podcast!