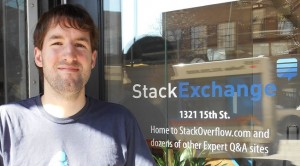 The ServerFault Systems Administration team continues its growth with the addition of sysadmin Shane Madden.  Shane lives in Denver and will work out of the Denver office on days he wants lunch.
You may know Shane already from his contributions in the open source world.  He's an avid Puppet programmer and Python coder.  Shane's very active on Server Fault… he has over 69k reputation points which makes him the 7th highest rep user there!
Shane's hobbies include skiing, board games, video games and hockey.  He has many pets including a mantis shrimp.
Please join me in welcoming Shane to the team!