Our collocation hosting provider is offering a deal for Server Fault users on managed and dedicated hosting. This deal has been posted on the Stack Exchange blog. Based on our experiences with Peer 1 as a collocation provider it is a company I recommend.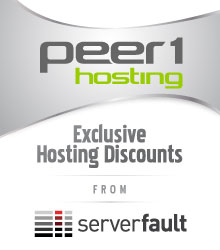 A little while back I answered a question on Server Fault about key things to look for where choosing a datacenter. This is a pretty concise checklist to go through when asking a sales engineer or at your datacenter visit. What I didn't include are the sort of immeasurable (non-contractual) things that make a facility great that you are likely to learn from a recommendation. Our facility at Peer 1 NY has been great for us in ways that might seem small, but really do make the difference.
The on-site staff has a tremendous amount of useful expertise which they unabashedly share with us, they even know the most minute detail that most sysadmins wouldn't know. This includes things like the different styles of mounting hardware, what sort of power usage they see from the latest generation of Dell servers vs. the previous generation, and general advice on how to lay things out in your racks.
At the NY facility they save the extra junk people leave there in one big hardware treasure box. These are little things like mounting hardware, power cables, and network cables which have saved my ass from time to time if I was missing something. The staff is immensely helpful; either providing some of these extra treasures, or helping mount a server that I was struggling to do myself. I can honestly say that I've never left the facility without completing the task because of some little thing I was missing.
When I originally deployed the network infrastructure at the NY facility, I was very particular about the redundancy I wanted. I wanted to use a private BGP peering for the setup and they were willing to work with me to get it whereas many providers only offer one solution.
Peer 1 (and their awesome staff) has proven to be consistently knowledgeable, flexible, helpful and reliable. The little service things they provide us with are oftentimes the difference between getting a job done or not. I am happy to recommend PEER 1 Hosting and our promotion with them.