Transfer rates and the number of packets you send are measured in units of a certain quantity of data per units of time. The unit of time that everyone is used to is the second. The standard quantity of data that is used in the networking field is bits and the standard time unit is seconds. So for example, the standard network interface these days is 1 Gigabit per second. So the quantity of data is a Gigabit, and the unit of time is a second. We call this the transfer rate. The key thing to remember is that this is a fixed ratio of data over time. Because of this, you can divide the ratio by any number you want to (Ignoring the complexities of the discrete properties of Ethernet frequencies, system clocking, etc). So, 500 Mbit over a half second is the same fixed ratio as 1 Gigabit per second.
The thing is though, in computing, a second is a really, really, really long time. This is important, because when we choose what unit of time to express this in, what we are doing is graph smoothing (It is sort of, although not really, like taking an average).
For example, we could transfer 900 Mbit in half of a second and another 100 Mbit for the other half of that second. How much data was transferred during that second? The answer is 1 Gbit. If we transfer 500 Mbit per half second and another 500 Mbit per the other half second — this is also 1 Gbit per second:. This effect is illustrated in these Megabits per half second graphs: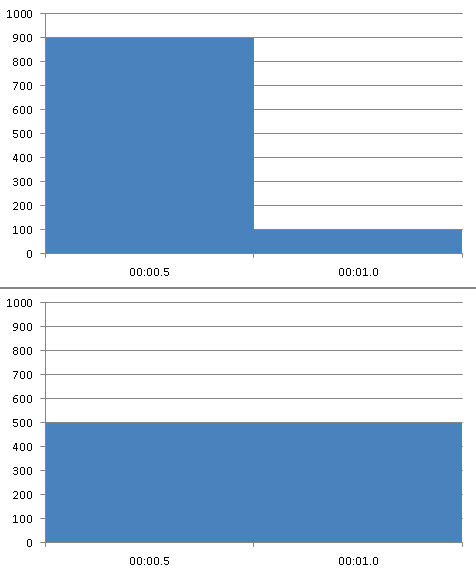 These two are clearly not the same thing, but when you express them as the amount of data transfered over a second they are. This is important because a 1 Gbit per second interface is also a 500 Mbit per half second interface — and a 500 Mbit per half second interface can't transfer 900 Mbits per half second (I am ignoring any buffering effects, but in practice we have found this to be essentially true).
This effect is made even worse by most monitoring tools because most take samples every 5 minutes. So what you are really seeing is the transfer rate per 5 minutes converted to a per second rate. This sort of thing is why people say data can lie.
Why Should you Care?
We discovered that we were discarding packets pretty frequently on 1 Gbit/s interfaces at rates of only 10-30 MBit/s which hurts our performance. This is because that 10-30 MBit/s rate is really the number of bits transfered per 5 minutes converted to a one second rate. When we dug in closer with Wireshark and used one millisecond IO graphing, we saw we would frequently burst the 1 Mbit per millisecond rate of the so called 1 Gbit/s interfaces.
We have bonded these interfaces using Intel Load Balancing (ALB/RLB) and for the most part our discards have gone away. We did this on all but one of our web servers for a while and found that the one that didn't have the bonded interface had discards climbing while the others did not.
A second is a long time — be wary of trusting it too much to measure things.